Turnkey Construction Services
Residential builders in Gurgaon, Home construction company in Delhi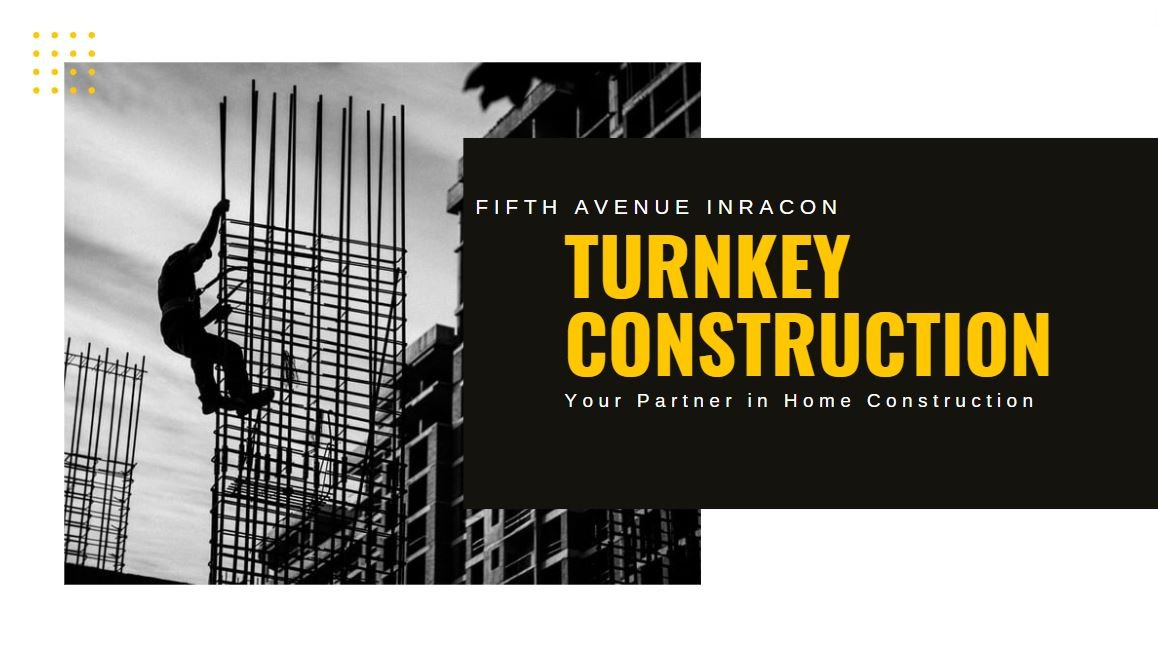 "Building Dreams Hassle-Free": 5th Avenue Infracon's Turnkey Home Construction Solutions in Delhi NCR
Creating a checklist for home construction is crucial to ensure that the entire process is well-organized and meets high-quality standards. Here's a comprehensive checklist that includes considerations for 5th Avenue Infracon's contributions:
Site Preparation:

Clearing the construction site
Excavation and grading
Ensuring proper drainage

Foundation:

Excavation for foundation
Pouring and curing of concrete
Foundation inspections

Structural Framework:

Installation of structural components
Wall framing
Roof framing
Window and door installations

Electrical and Plumbing Systems:

Installation of electrical wiring
Plumbing rough-ins
HVAC system installation

Insulation:

Installation of insulation materials
Ensuring energy efficiency

Drywall and Interior Finishes:

Drywall installation
Interior painting
Flooring installation

Exterior Finishes:

Siding installation
Roofing installation
Exterior painting

Cabinetry and Fixtures:

Installation of kitchen and bathroom cabinets
Fixture installations

Final Inspections:

Structural inspection
Electrical and plumbing inspections
Compliance with building codes

Landscaping and Exterior Features:

Landscaping design and implementation
Installation of outdoor features (patios, decks, etc.)

Safety Measures:

Implementation of safety protocols
Ensuring a safe working environment for construction personnel

Quality Assurance:

Regular quality checks at each construction stage
Compliance with industry standards
Post Delivery -Quality Assurance.
5th Avenue Infracon's Contributions to the Construction Process:
Expert Project Management:

Detailed project planning and scheduling
Efficient coordination of construction activities

Transparency in Costing:

Clear and detailed cost estimates
Transparent communication regarding any potential cost variations

Skilled Workforce:

Employment of skilled architects, engineers, and construction professionals
Commitment to craftsmanship and attention to detail

Quality Material Selection:

Use of premium materials for construction
Ensuring durability and longevity of the structure

Customized Solutions:

Tailoring construction plans to meet the unique needs and preferences of clients
Flexibility to accommodate various budget ranges

Sustainability Practices:

Integration of eco-friendly and energy-efficient construction practices
Consideration of sustainable building materials

Communication and Client Involvement:

Regular updates and communication throughout the construction process
Client involvement in decision-making and design choices
By adhering to this comprehensive checklist and incorporating 5th Avenue Infracon's commitment to excellence, your home construction project is set to be a seamless and successful endeavor.
Introduction to Construction Turnkey Solutions:
Embarking on the journey of building your dream home is an exciting venture, and at 5th Avenue Infracon, we understand the importance of a seamless and stress-free construction process. As the leading home construction company in Delhi, we proudly offer turnkey solutions that not only ensure top-notch quality but also provide transparency in home construction costs in Gurgaon NCR and Delhi.
Why Choose 5th Avenue Infracon for Turnkey Home Construction?
Comprehensive Turnkey Solutions: Our turnkey solutions cover every aspect of the home construction process. From the initial design phase to the final finishing touches, we handle it all. This comprehensive approach streamlines the construction process, making it efficient and hassle-free for our clients.

Transparent Costing: Understanding the cost of building your dream home is crucial. At 5th Avenue Infracon, we believe in transparency. Our team provides detailed and accurate estimates for home construction costs in Gurgaon NCR and Delhi, ensuring that you have a clear understanding of the financial aspects of your project from the very beginning.

Experienced Team of Professionals: Our team of experienced architects, engineers, and construction professionals is dedicated to delivering exceptional results. With a wealth of expertise in the industry, we bring innovative solutions to the table, ensuring that your home is not only aesthetically pleasing but also structurally sound.

Quality Materials and Craftsmanship: Quality is the cornerstone of our construction philosophy. We use premium materials and employ skilled craftsmen to ensure that your home is built to the highest standards. Our commitment to quality is reflected in every detail, from the foundation to the finishing touches.
Understanding Home Construction Costs in Gurgaon NCR and Delhi:
Factors Influencing Home Construction Costs:

Size and Layout: The size and layout of your home play a significant role in determining construction costs.
Material Selection: The choice of materials, whether premium or standard, affects overall costs.
Location: Construction costs can vary based on the location and accessibility of the construction site.
Design Complexity: Intricate designs may require additional labor and resources, impacting costs.

Customized Solutions for Every Budget: 5th Avenue Infracon recognizes that each client has unique budgetary considerations. Our turnkey solutions are customizable to accommodate various budget ranges, ensuring that your dream home remains within reach.
Conclusion:
Building your dream home is a significant undertaking, and 5th Avenue Infracon is here to make the journey smooth and rewarding. As the go-to home construction company in Delhi, our turnkey solutions offer transparency in home construction costs in Gurgaon NCR and Delhi, ensuring that your vision becomes a reality without unnecessary stress. Contact us today to start your hassle-free journey towards the home of your dreams.
Call us and Save Your Time!